Spirulina - A Detailed Overview of Histories First Superfood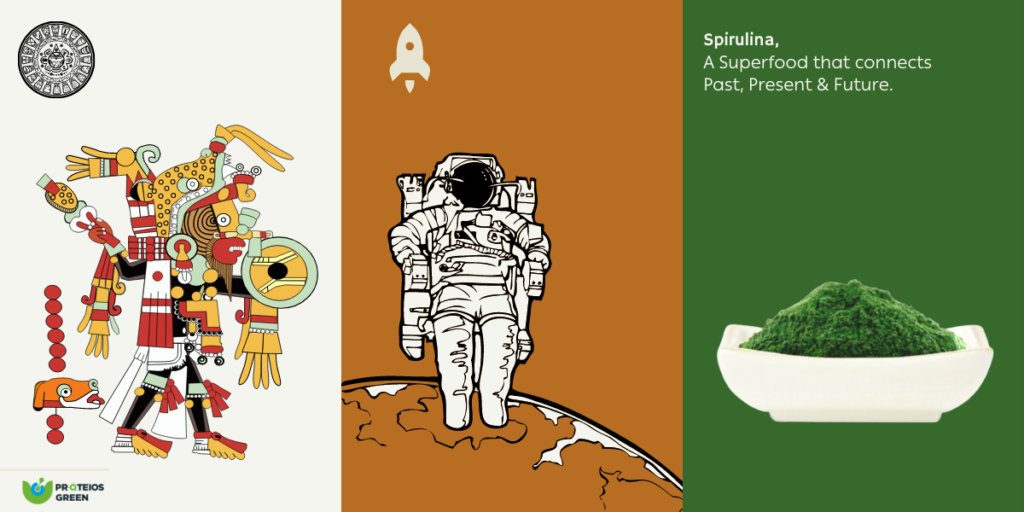 Spirulina is one of the earliest lifeforms and earliest food source on earth. It's considered to have existed on our planet for more than 3.5 million years. Spirulina is a photosynthetic, filamentous, spiral-shaped, multicellular, blue-green microalgae, which is bound by enormous proteins and nutrients. Due to its nutritional quantity and therapeutic properties, it's hailed as Nature's Superfood, even NASA prefers Spirulina as it is one of its essential nutrition supplements for its Astronauts.
Spirulina (Arthrospira) are aquatic lifeforms that are filamentous, non-heterocystous cyanobacteria that grow colonies and are generally found in tropical and subtropical regions in warm bodies of water with high carbonate/bicarbonate content, elevated pH, and salinity.
Even though there are a larger number of Spirulina species found in aquatic and marine ecosystems, three species of Spirulina are highly studied and used as they are edible with high nutritional and therapeutic values. 
Arthrospira platensis (also known as Spirulina platensis)

Arthrospira maxima (also known as  Spirulina maxima)

Arthrospira fusiformis (also known as Spirulina fusiformis)
Quick Summary
Spirulina is a Cyanobacteria that grows in the Tropical and Subtropical regions. There are three major species in Spirulina, there are Arthrospira platensis, Arthrospira maxima, and Arthrospira fusiformis.
Spirulina is made up of 60%-70% protein and is packed with essential nutrients and has been used by humans for Centuries. Today Spirulina is widely used as one of the main nutritional supplements worldwide by people of all cultures and ages.
Olympics approved usage of Spirulina, as is a natural food supplement. Athletes and Sports People prefer spirulina as it is easy to digest, and has less fat percentage.
World Health Organisation (WHO) suggests that Spirulina may play a major role in fighting Starvation and Malnutrition.
Spirulina is a great source of: 
Thiamine ( vitamin B1)

Riboflavin ( vitamin B2)

Niacin ( vitamin B3)

Copper

Iron
Also, Spirulina has a considerable quantity of Magnesium which helps to boost the body's immune system. Magnesium is essential for more than 300 biochemical reactions of the body and is important in stabilizing Muscle and Nerve Function.
Spirulina is also a good source of phytopigments like 
Chlorophylls

Carotenoids 

Phycobiliproteins
One tablespoon of Spirulina contains: 
Calories: 20

Protein: 4 grams

Fat: 1 gram

Carbohydrates: 2 grams

Fiber: 0 grams

Sugar: 0 grams
Quick Summary
Spirulina is rich in nutrients and is made up of 60%-70% of protein. It is a great source of nutrients like Thiamine (vitamin B1), Riboflavin (vitamin B2), Niacin (vitamin B3), Copper, Iron, and Magnesium, and photopigments like Chlorophylls, Carotenoids, Phycobiliproteins.
In recorded history, Spirulina was first considered to be used by the Aztecs Civilization of Mexico region between the 14th and 16th centuries, until the Spanish conquest overthrew the Aztecs.
Aztecs skimmed it from lakes in the Valley of Mexico, including Lake Texcoco, with nets or shovels. Once it was harvested, the Aztec sun-dried the algae and cut it into bricks. When preserved this way, it would remain edible for a year. 
The Aztecs called the algae Tecuitlatl and ate it with tortillas or toasted corn. Sometimes it was combined with chiles and tomatoes to make a sauce.
Tecuitlatl harvested in Lake Texcoco served as an essential protein source for more the 1.5 million Aztec people.
In the year 1940, A Belgian phycologist Pierre Dangeard mentioned that the Kanembu tribe of Central Africa have been traditionally harvesting Spirulina from Lake Chad, drying it, and using it to make broths for meals. They called it "Dihe" and they also sold in Markets.
Quick Summary
Spirulina is found to be used by humans as an essential nutrition source for centuries. Studies found the Aztecs, Some Mesoamerican Civilizations, and a Few African tribes like Kanembu tribes had used the Blue-Green Alga, Spirulina.
Health Benefits of Spirulina:
Spirulina is packed with essential nutrients and can have a huge impact on our physical and mental health when rightly consumed. Its a powerful antioxidant and also has powerful anti-cancer and anti-inflammatory properties.
Regular intake of Spirulina will:
Improves Heart Health

Lowers Bad Cholesterol

Inhibits Weight Loss

Improves Muscle Strength

Fight Against Allergies

Controls Diabetes

Improves Metabolism

Boosts Mental Health
Recommended Intake of Spirulina:
1-3 grams per day is standard but Spirulina can be consumed up to 10 grams to increase health activity. 
Bottom Line
Spirulina is a Nature's Superfood and it is a gift from Earth. Spirulina survived all the natural hazards even ice ages to provide humans with all essential nutrients. The complete potential of Spirulina is yet to be explored. Scientists believe that Spirulina will play a key role in making humans an intergalactic species.