Spirulina - For Young and Healthy Skin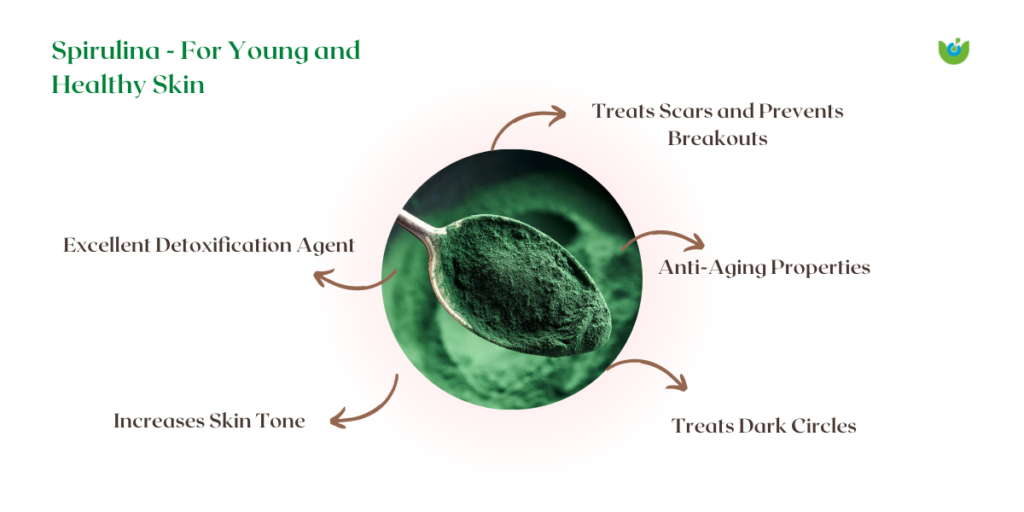 Spirulina is one of the most potential Algae species on earth. It is believed that Spirulina played a key role in converting carbon sources into oxygen in Earth's Atmosphere. Spirulina is one of the earliest lifeforms and the food chain began from this Algae. It's considered to have existed on our planet for more than 3.5 billion years. Spirulina is rich in Amino Acids, Omega 3 Fatty Acids, Proteins, and all Essential Nutrients that heal and nourishes the skin through external application and internal consumption.
Excellent Detoxification Agent
Spirulina powder when used as a face mask, removes all the free radicals and eliminates the toxins from the skin. It boosts skin metabolism and helps the skin to heal faster.
Spirulina is rich in tyrosine, vitamin E, and selenium. These are very essential for a skincare routine and are known for their Anti-aging properties. Vitamin E reacts with the skin cells and helps in skin rejuvenation. Tyrosine slows down skin cells' aging process. And the antioxidants present in spirulina eliminates free radicals which are responsible for skin damage and aging.
Spirulina is packed with all essential nutrients and also has a high amount of vitamin A, vitamin B-12, vitamin E, calcium, iron, and phosphorus, all of which play a key role in keeping the skin healthy. the free radicals present in the skin make it look oily, dull, and tired. Including Spirulina in your diet as a daily supplement will improve your gut health thereby giving you healthy glowing skin.
Dark circles will make your eyes look swollen and give you a weak unhealthy look. Spirulina detoxifying effects help in eradicating dark circles and it adds shine and texture to the eyes, making your eyes glow up and make you look brighter.
Treats Scars and Prevents Breakouts
When Spirulina is used as a face mask the Vitamin A, B12, and E in Spirulina boost cellular activity by increasing the blood circulation on the skin. This helps in fading the scars. Visible results can be seen in 15-20 days. It prevents the overgrowth of candida that causes Acne Breakout.